Summer School on Deep Learning and Bayesian Methods
Event ended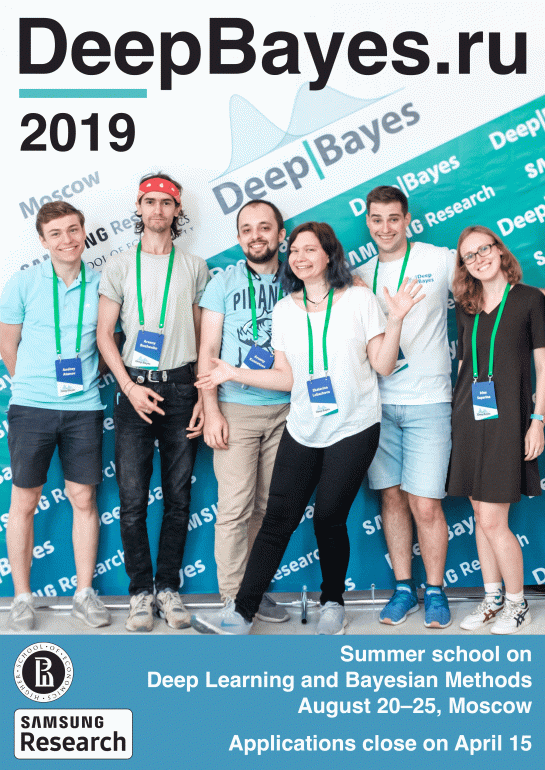 The third Summer School on Deep Learning and Bayesian Methods (Deep|Bayes summer school) organized by HSE Centre of Deep Learning and Bayesian Methods and Samsung AI Center in Moscow will be held in Moscow from August 20 to August 25, 2019. The head of the summer school is Dmitry Vetrov, a research professor of the Faculty of Computer Science.
Deep|Bayes is an international summer school for graduate students, Ph.D. students and industry professionals with experience in deep learning. Six days of lectures and practical sessions will give participants an understanding of how Bayesian methods can be combined with deep learning and what results may be achieved with these models. The lectures will be taught by researchers of Bayesian Methods Research Group and Skoltech. The most recent advances in Bayesian deep learning will be discussed in invited talks, given by Novi Quadrianto (University of Sussex, scientific advisor of Centre of Deep Learning and Bayesian Methods), Maurizio Filippone (EURECOM), Francisco Jesus Rodriguez Ruiz (Columbia University, University of Cambridge), Sergey Bartunov (DeepMind) and Andrey Malinin (University of Cambridge). The language of the summer school in English.
An application for the Deep|Bayes 2019 closed on April, 15. If you have any questions, please e-mail to info@deepbayes.ru. Information about Deep|Bayes 2018 is available here.
InLiberty space, Stolyarnyy Pereulok, 3/1