Eric Moulines published a monograph "Markov Chains" at Springer
Markov Chains, authors: Douc, R., Moulines, E., Priouret, P., Soulier, P.
From
 Springer
: This book covers the classical theory of Markov chains on general state-spaces as well as many recent developments. The theoretical results are illustrated by simple examples, many of which are taken from Markov Chain Monte Carlo methods. The book is self-contained, while all the results are carefully and concisely proven. Bibliographical notes are added at the end of each chapter to provide an overview of the literature.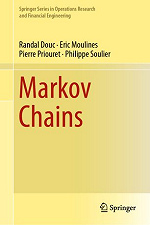 Markov Chains @Springer