International seminar "HAO Intelligence for Big Wisdom"
An international seminar was held on May 6, 2022.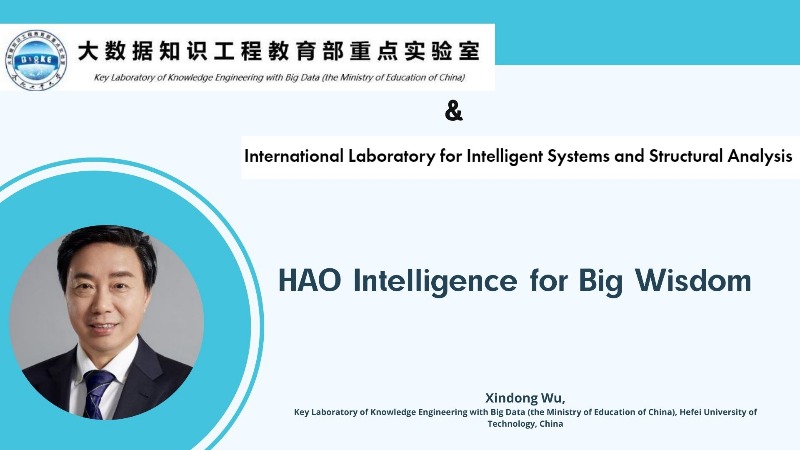 On May 27, 2022, the International Laboratory for Intelligent Systems and Structural Analysis (HSE, Moscow) and Key Laboratory of Knowledge Engineering with Big Data (the Ministry of Education of China) held a seminar on the topic "HAO Intelligence for Big Wisdom".
The report was presented by Professor, Head of the Key Laboratory of Knowledge Engineering with Big Data Wu Xindong. Professor Wu has been engaged in research, teaching and scientific practice in the field of data mining and knowledge engineering in the field of big data.
The talk described HACE theorem and HAO intelligence framework. The former allows to convert raw and heterogeneous Big Data into structured Big Knowledge, the latter then combines Big Knowledge with a business reasoning thus leading to Big Wisdom.
HAO intelligence framework integrates three types of intelligence: human, artificial, and organizational one. The third type of intelligence, representing the business reasoning of an organization, particularly amazed the talk attendees. Indeed, though being equally important, the concept of organizational intelligence is discussed much rarely than the well-known human and artificial intelligences.
The talk concluded with an example of Big Wisdom high efficiency. In China, a public security Big Wisdom implementation was asked to automatically identify a violent assaulter in a big city given only a person's position and a plate of a car the person fled on. The system succeeded in just five minutes.
The recording is available here.