Random coffee bot HSE: Networking in HSE
Students of the HSE Faculty of Computer Science have created a bot for networking of HSE students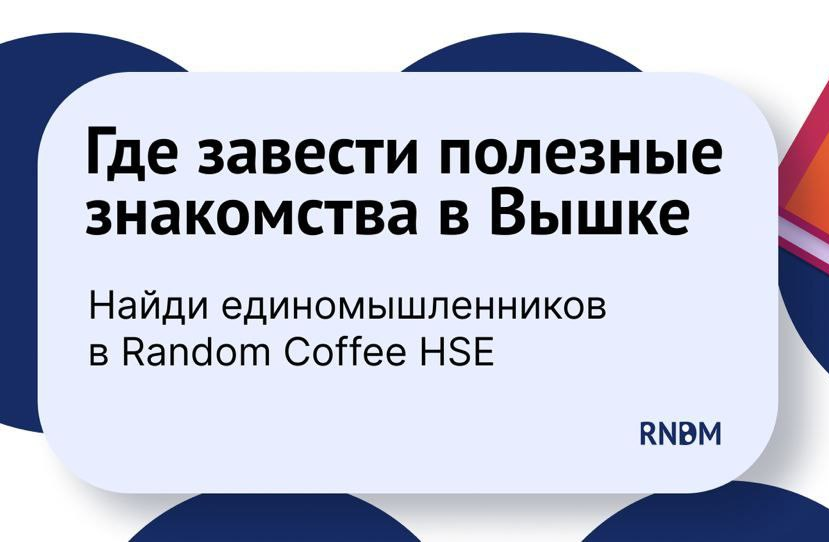 In October, students of FCS Gordey Zavyalov and Mark Litvinov launched a chatbot in telegram, which helps to find useful acquaintances in HSE. Now there are more than 200 interesting people in the bot from different faculties from the 1st year of bachelor's degree to graduates.
Goal
To help HSE students go beyond communicating only with the group and the stream and expand their circle of acquaintances. With the help of the bot, you can get acquainted with cool students from other faculties with whom you usually do not intersect (for example, FCN and HSE)
Studying is not the only thing at the university, communication and useful connections are no less important. How to become successful in school is clear, but how to deal with networking and expand your social circle is not always obvious. That's what a chatbot is for: it will find an interesting interlocutor, will match you, it will only be necessary to find time for a meeting. Moreover, it is not necessary to spend many hours for this, most importantly, regularly.
Enought
40
minutes a week for one meeting and 52 interesting acquaintances will turn out in a year
How can a bot be useful?
it will expand the circle of contacts
improve communication skills
help build a career together or find co-founders for startups
How it works?
Follow the link
Answer the bot's questions
The bot will use the answers to select people who are similar in interests, communication goals
Confirm your email
You need to register via corporate mail
Your profile will be sent for moderation
Done!
Now every Monday you will receive a questionnaire from another person, it remains only to arrange a meeting.
The Random Roffee community is increasing every day, replenished with new interesting students). It is even possible that soon the whole Tower will be in the bot.
It's time to look for like-minded people and expand the circle of communication with Random coffee HSE