"Интеллектуальная собственность в стартапах: вопросы и ответы": мастер-класс Кирилла Обедина
Как уберечь себя от офер при разработке собственного продукта, как передать результаты интеллектальной деятельности и как следить за патентами по всему. Об этом и другом мы поговорили на мастер-классе Кирилла Обедина, патентного поверенного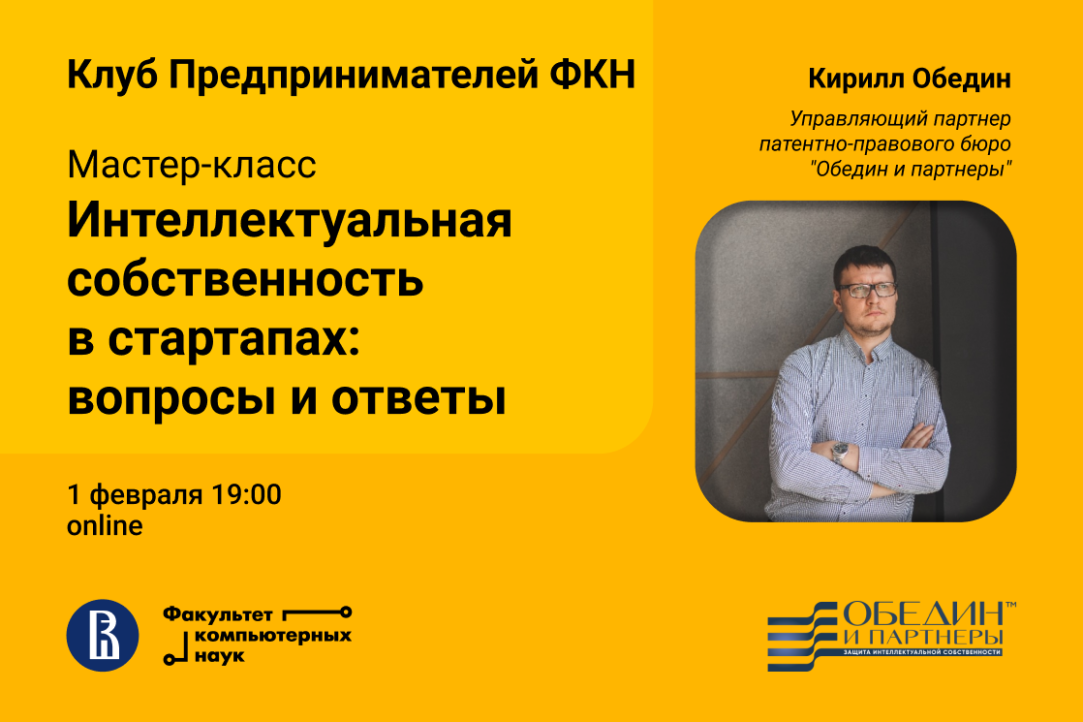 Kirill Obedin held a master class on intellectual property protection for the FCS Entrepreneurs Club
Ideas have value and it is important to protect and communicate them competently. The young entrepreneurs of the Club had a unique opportunity to talk with a patent attorney of the Russian Federation, an intellectual property lawyer and a managing partner of the patent law bureau. As part of the master class, participants asked questions on burning and relevant topics in an online format.
We thank Kirill for the cycle of master classes on intellectual property and wish him success in protecting them. And we wish the participants that their ideas and projects are always safe!
Join the FCS Entrepreneurs Club
"I work with small and medium-sized businesses. I have been successfully practicing intellectual property protection for over 14 years. I accompany startup projects, IT projects, I understand international legislation, I help entrepreneurs not to step on a rake. I am well versed in intellectual property and personal data protection. I legally pack e-commerce projects, protect the rights of authors and help them manage them competently, conduct legal representation, represent the interests of principals in the Chamber for Patent Disputes, the Court for Intellectual Property Rights and the Arbitration Court. solve complex problems and am not afraid to create a legal practice. Protection of bold ideas™"